NEWS
20. Dylan Days on 25. Blues Alive
23. 09. 2021
The autumn continuation of the Dylan Jubilee celebrations will be an extraordinary part of this year's Blues Alive festival in Šumperk on 11-13. November.
Tickets for specific Dylan Days programs within Blues Alive are on sale separately from today at https://bluesalive.cz/vstupenky/ and will be available without the need for a season ticket.
Thursday, November 11
16-17 in the museum opening of the exhibition I LIKE BOB! (Bob Dylan and his track in the Czech lands and the surrounding area), admission is free.
Friday, November 12
11-12: 30 in the city library colloquium dedicated to Dylan and his work, whose participants will be Jakub Guziur, Petr Onufer, Robert Křesťan, Jan Řepka and Jan Sobotka. So they are mostly translators, performers, English speakers or music publicists – often variously accumulating these functions – one way or another dealing with the life and work of a jubilant giant.
13-14: 30 also in the library a lecture by Elijah Wald, the author of the book Dylan went to electricity!. The same ticket for this lecture is valid as for the colloquium, it is not listed in the advance sale.
16-19 in the church chamber concert and tribute to Bob Dylan with the participation of Broken Harp, Jan Řepka, Jarda Svoboda and Vladimír Merta.
Saturday, November 13
11-13 in the cinema Bob Dylan's film Never Ending Tour Diaries: Drummer Winston Watson's Incredible Journey (2009), will be presented in person by Winston Watson, among others the drummer of Dylan's first four concerts in Prague.
13-15 in the large hall of the House of Culture concert of Robert Křesťan a Druhá tráva with guest Winston Watson (it is part of the main program, you must have a season ticket).
16-17: 30 in the library lecture by Elijah Wald, this time dedicated not to Dylan, but to the roots of the blues. We remind you that Elijah W. is also the author of the great book The Blues: A Very Short Introduction, so we also highly recommend it!
Shelter from the storm – Řepka sings Dylan
23. 09. 2021
If you would like to shorten the wait for the continuation of Dylan Days in Šumperk, Jan Řepka will sing his excellent translations of Dylan songs, including brand new ones, on October 1 in Kaštan, Prague.
Dylan Days on Blues Alive
01. 07. 2021
Thanks to the hospitality of the Blues Alive festival in Šumperk (holder of the Keeping the Blues Alive award), the autumn celebrations of Dylan's jubilee will continue as part of this year's festival, which takes place from 11th to 13th November 2021.  
Season tickets for the festival are currently on sale here https://bluesalive.cz/vstupenky/ and are disappearing very fast !!!  
Please also note that the annually sold out festival usually completely depletes the accommodation capacities in the city and its surroundings.
However, tickets for specific Dylan Days shows within Blues Alive will be on sale separately at the end of the summer. Tickets for these events will be available without the need for a season ticket.
Because Blues Alive has possibilities completely beyond the current possibilities of Dylan Days, the program – however based on the established practice of debate plus concert – will be enriched with a dylanological colloquium and especially with important guests. For more information, please follow the news carefully here, or directly the website https://www.bluesalive.cz/.
Gates of Eden
26. 05. 2021
The headline is exaggerated, of course, but after a long break, this Saturday's event seemed quite successful. Thanks to everyone who contributed in any way and special thanks to Dominic Sauer – there are a lot of good sound engineers, but many of them would run out of patience in such improvised conditions.
As announced, the sequel should take place in November as part of Blues Alive in Šumperk. When we know more, it will appear here on Facebook and preferably those who are in the mailing list will be informed (if you would like to join, let us know, please).
If you didn't have time to visit the exhibition at the PopMuseum, it's really worth it. It will be open until June 26, and the postponed opening will be tomorrow from half past six.
Last but not least, we would like to mention the May monothematic Dylan issue of UNI and the interview with Vladimír Merta in Lidový noviny. Vltava and other media also dedicated a number of programs to Bob Dylan's jubilee.
.
Several photos from Saturday can be seen on the PopMuseum website, and other photos of various photographers can be found on Facebook.
some old wild shirts
26. 05. 2021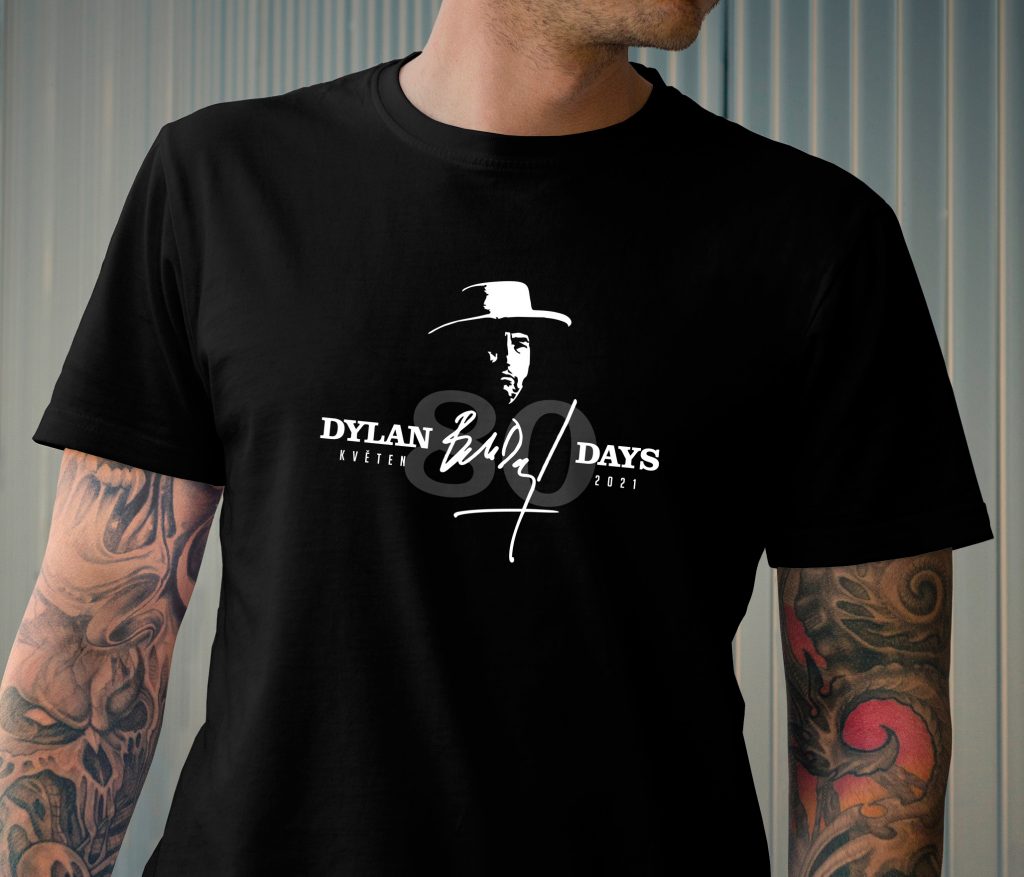 If you would like to wear the big Bob not only in the heart but also on the chest on the occasion of his especially round anniversary, you have the opportunity to order a jubilee T-shirt.
put some bleachers out in the sun
20. 05. 2021
Due to the growing interest in the event next Saturday and the limited capacity given by the anti-epidemic measures, we recommend booking in the Kaštan ticket reservation system.
Admission to DD / ZF is voluntary this year, for technical reasons the system has a symbolic 1 crown. But of course we will be happy if you contribute a little more to the sound engineer's hat on the spot and possibly also to the journey of more distant musicians.
New Morning of 20. Dylan Days / Zimmerman Frei
20. 05. 2021
Our shining example was followed with flexibility by the government itself and also let in a timid morning ray into the dark Czech pandemic night. So from Monday it will be possible to visit the restaurant front gardens and all-cultural events under the following conditions:
– indoor event for sitting max. 40 people (standing is not possible)
– outdoor events (again only) for seating max. 80-90 people
– visitor records (email address)
– mandatory respirator
The visitor must meet one of the following 4 conditions:
– 14 days after the end of vaccination
– less than 90 days before the COVID 19 disease
– negative antigen test not older than 72 hours
– negative PCR test not older than 7 days
20. Dylan Days / Zimmerman Frei can therefore flutter their broken wings and try a test takeoff. Weather permitting, next Saturday will be 22.5. from three o'clock in the afternoon to celebrate and play in the garden at KC Kastan, as planned last year, before the rain drove us under the roof, ie without a stage, with limited PA and voluntary admission to the hat, so that not even the sound engineer would stay dry. We will try to save some of the original bold plans in the autumn.
Bringing It All Back To Kaštan
20. 05. 2021
Dear friends, we have decided to draw a fixed point in the still lingering liquid sands of ambiguity and to bring a ray of light into the persistent dense mists. So, in the absence of wheelbarrows, we will meet on Saturday, May 22, at three o'clock in the afternoon at KC Kastan in the garden to honor the memory of the famous bard and run his legacy, including works unheard of, as previously announced. For this purpose, a small singing apparatus will be prepared + the opportunity to engage in combos, or even build a proportionately minimized base of drums or other pastimes under the slogan "Veni, vidi, oscula cantanti" or "As we do, so it will be". If you are going to participate, please ask for a kind notice.
It will also be possible to visit the exhibition I LIKE BOB! (Bob Dylan and his footprint in the Czech lands and the surrounding area) in the neighboring Pop Museum.
The Bob Dylan´s Least Hits Vol.1 alias Write Dylan!
26. 04. 2021
The Untold Dylan website offers the opportunity to add five songs, for which only the lyrics have been preserved, more or less completely. There you will also find links to the first results, however, if you are interested in this offer, we cannot recommend listening to them, as they could contaminate your inspiration. Of course, in addition to the melody, there is also the opportunity to try a Czech translation.
So if you want to actively celebrate the Dylan jubilee, you can find the necessary material here:
Dope Fiend Robber https://bob-dylan.org.uk/archives/14289
Don't let anyone write your story https://bob-dylan.org.uk/archives/14457
Song to Bonny https://bob-dylan.org.uk/archives/15609
Bowling Alley Blues https://bob-dylan.org.uk/archives/15721
Tioga Pass https://bob-dylan.org.uk/archives/15634
We are happy to welcome the results of your efforts to some of our events.
Documentation 19. Dylan Days
20. 10. 2020
Almost the entire recording of this year's improvised 19th Dylan Days / Zimmerman Frei, taken by Petr Sedláček, is available.
19. Dylan Days / Zimmerman Frei
22. 05. 2020
According to the forecast, it seems that the long-awaited and long-awaited rain like a gonna fall pig tomorrow. Although it should be soft rather than hard, if it does, we will find a shelter from the storm like last time in CC Chestnut Hall, White Mountain St. 201/150. It will be a bit bigger in the current situation, because strictly masked & anonymous (but the veils would have to be outside in the garden except for consumption) + no drinking & eating inside + spacing (unless it can be said that we are all Bob's family), but we believe that this year's 19th Dylan Days / Zimmerman Frei alias Limping Lightning Revue will succeed. There will be no entrance fee, but we would like to choose a hat for a sound engineer.
We do not want to downplay the classification and risks of pandamia corrina virus and claim that life does not mean a thing, but if the current number of people with proven COVID disease k 19 this morning in the whole Czech Republic is 2,519, it would be a special bad luck if our the meeting became the epicenter of the new spread. And we're done to believe that Old Bob Music's lovers include mature and experienced personalities who can consider whether they could be threatened or threatened. However, if you turn on location sharing in the mapy.cz application or install an e-veil, the quarantine will be a bit smarter again (Big Brother already knows everything about us).